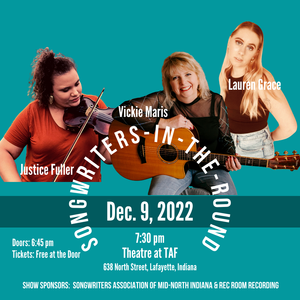 "Three generations of women! Three singer-songwriters! Three women who love to rock a stage with their bands."
Justice Fuller, Lauren Grace and Vickie Maris will be sharing original songs in a songwriter-in-the-round. It takes place on Dec. 9, 2022, at 7:30 pm, at The Arts Federation, 638 North Street, Lafayette, Ind. 
Both Grace and Maris have recently released new music that the audience will hear during the concert. 
New singles by Lauren Grace:
Lingering (link to the song in Spotify)
Small Towns (Spotify)
Debut solo album by Vickie Maris:
Another Universe (link to album in Spotify)
Entrance to the event is free. Any donations collected will go to support the "Shirley Martin - Youth Songwriter Scholarship" administered by SAMI (Songwriters Association of Mid-North Indiana). 
Scott Greeson is a co-founder of SAMI and a co-founder of the youth scholarship, which has been given out for over 20 years! Thank you to Scott for getting so many wonderful things started for music artists! 
"Word is out that I've asked Scott Greeson to join me on guitar for my last song of the concert!"  Vickie