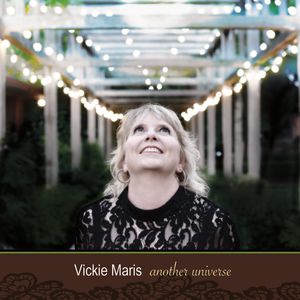 Another Universe is the title of the solo album released Sept. 28, 2022, by recording artist and singer-songwriter Vickie Maris, an entertainer based out of Indiana in the USA. 
Maris' songwriting slides across several music genres from soft pop to singer-songwriter to soft jazz to contemporary country and Americana. 
Her fans mention similarities in her vocal stylings to that of Chrissie Hynde of The Pretenders, Karen Carpenter, Shania Twain and Alanis Morissette. 
Maris plays acoustic guitar and piano accordion when performing with her band. She also serves as harmony vocalist, accordionist and guitarist in the Scott Greeson band, Trouble With Monday. 
For this recording project, the award-winning, touring guitarist and recording artist Michael Kelsey, of Michael Kelsey Music Production, Indianapolis, Ind., played the instrument tracks for the project. He also served as recording engineer and producer of Another Universe.
Maris worked with studio musician, arranger and music educator Courtney Von Drehle, accordionist out of Portland, Ore., who played accordion for the song, Sanity's Edge. 
Keyboard and organ tracks for three of the songs were tracked at Compass Records in Nashville, Tenn., by Mike Rojas. He played organ on Is It Tomorrow and South Bend. Rojas also played piano for South Bend and for We Are Enough. The tracking done in Nashville was recorded by engineer, Matt Coles. 
Maris was the solo writer on: Daydreams, Sanity's Edge, On the Mountain, We Are Enough, Stars and Miss Her. Kelsey and Greeson were her cowriters on Mourning Dove. Greeson also cowrote South Bend with Maris. Kelsey was cowriter with Maris for Broken State, Is It Tomorrow and Easy To Love. 
Maris performed her album release concert with her band on Sept. 25, 2022, at Thomas Duncan Hall, Lafayette, Ind. The album is available in cd format via Amazon. Another Universe is also out in all the major music directories and streaming services.